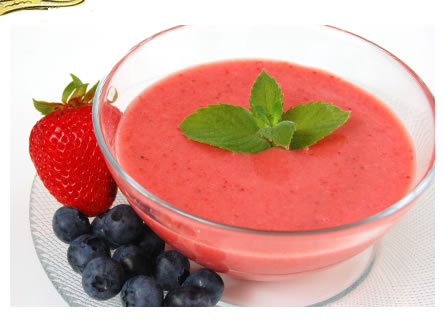 Delicious Strawberry Soup

1/2 t finely grated orange zest
1/2 t finely grated lemon zest
6 c unflavored Greek yogurt
In a bowl, toss 20 halved strawberries with 1/2 cup sugar and 2 Tbsp of balsamic vinegar. Let the berries soften for a couple of hours at room temperature.

Puree strawberries with the sugar, vinegar, zests, and orange juice. Whip the yogurt in a bowl, then stir into the strawberry puree until smooth. Place in refrigerator and chill well.

When ready to serve, ladle the soup into flat bowls and drizzle with a bit of the pureed strawberries, if desired.
For other cold soups visit the website: Great Cold Soups
Photo via Great Cold Soups.